A life in song.

Wilma Reading has lived an extraordinary life in music. Now living back in her hometown of Cairns, Wilma travelled the world from the 60s onwards as a popular singer. She was one of the first artists of Torres Strait Islander descent to find international acclaim and, in this program, she recalls those heady days when she performed on the world stage alongside Duke Ellington and many other musical luminaries.
Synopsis
From her first days singing in Bandstand and on In Melbourne Tonight, she dreamed of working overseas, like her aunt Georgia Lee, and this dream became a reality as her extraordinary talent was recognised by promoters and managers in Australia and then across the US and the UK.
Her touring life was often determined by chance, as when a talent spotter saw her show in Tokyo and then booked Wilma for a season in Vegas. She stayed in the US for some time, where she worked with Duke Ellington and appeared on The Tonight Show with Johnny Carson while later living in the UK where she appeared frequently on the top rating Morecambe and Wise variety program. She has performed with the national orchestras of Belgium, Holland, Iceland and Germany and toured with the Moscow Symphony Orchestra. She now teaches singing and performs locally in Cairns, where she has just released a new album, Now You See Me.
Guests: Col Joye, Nancia Guevara, Nigel Pegrum
Broadcast Date
02 July 2011
Production Details
Producer and presenter: Simon Luckhurst
Audio Engineer: Phil McKellar
Executive producer: Cathy Peters

Images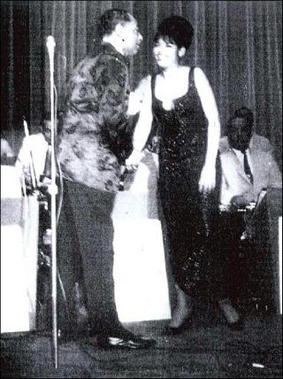 Wilma Reading with Duke Ellington